Public holidays
Holidays can be set to automatically calculate surcharges


In Shiftbase, it is possible to add public holidays. You also have the option to manually add other holidays.
Furthermore, you can also link surcharges to these holidays through a rate card.
This article explains how to add the holidays.

Importing Holidays
To import the public holidays, go to the Settings and click on Employees > Public holidays.
Next to the blue button Add holiday, click on the dropdown arrow and click Import Holidays.

In the popup that follows, select the year, country and if applicable select the region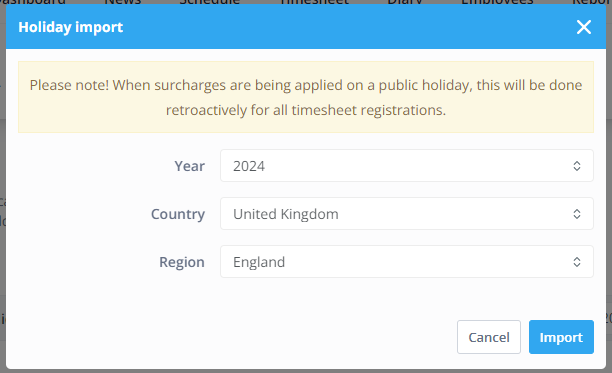 Then, click on Import.
⚠️ Note: When public holidays are imported, it is a good idea to check them. This is because not every imported holiday is entitled to an irregularity allowance.
💡Tip: You can import the public holidays for the year you're in, the previous year and the next year.
Adding holidays manually
To manually add holidays, click the blue button + Add holiday