Make corrections to vacation hours


A correction can be made to the time off balances of employees. You can make corrections per time off balance by adding or subtracting hours. It is also possible to include these in the employee's payroll.


To make a correction, go to the Absence tab for the desired employee. Then click on the button + Add correction in the upper right corner of the Corrections field.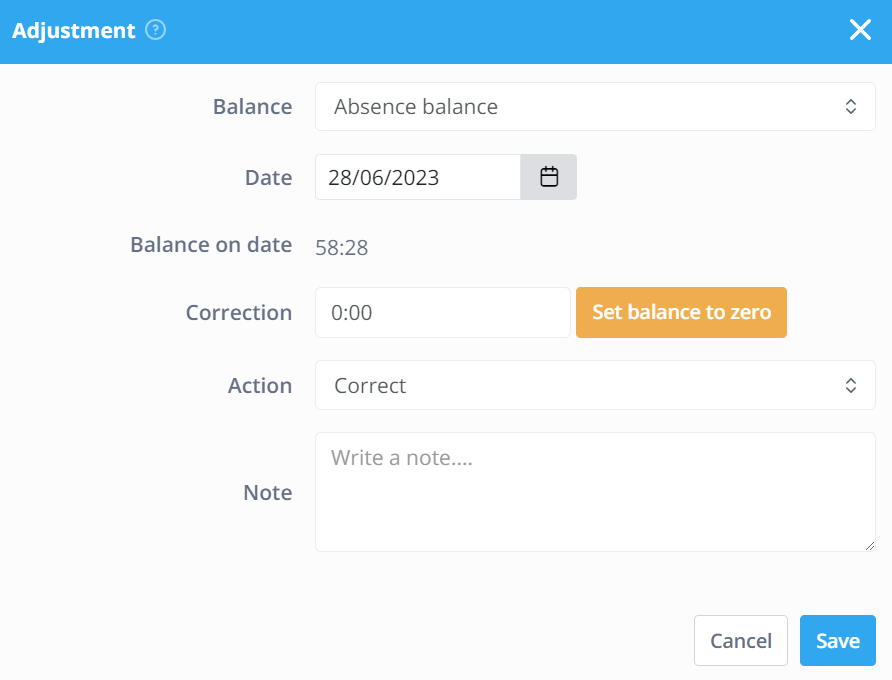 Balance: This is the time off balance on which you want to make the correction.
Date: The date on which the correction should take place.
⚠️ Note: This date must fall within the employee's contract.
Balance on Date: Time off balance on the selected date.
Correction: The number of hours to be added or subtracted.
⚠️ Note: For a negative correction, a minus must be placed in front of the balance change.
Action:
Correct: This option performs the desired correction to the time off balance.

Payout: This option causes the correction to be reflected in the payroll.

Transfer to: Moves the balance to another time off balance or the plus and minus hours.

Plus minus hours: This option moves the corrected amount to the Plus minus hours of the employee.
Time off: This option uses a time off balance to add or subtract the correction you've selected.

Hours in a day: Here you can add the number of hours the employee works in a Day to perform the conversion to days.
Total correction: Here you can see the total correction in days that you're performing with the correction in hours.
💡 Tip: It is also possible to make a correction in bulk for multiple employees. Click here for more information.