Exchange of shifts between employees


Employees can exchange shifts with each other. Exchanging shifts is offering one's own shift to colleagues within a department.
When an employee makes an exchange request, the invited colleagues will receive a message. They can then choose to accept this shift. The rule for accepting a shift is: first come, first served. When an employee accepts the shift, the manager receives a message. Then the exchange request can be approved or rejected, this does require the appropriate permissions.
⚠️ Note: The exchange is not final until the manager has given approval.
Contents
Permissions

In order for managers to approve exchange requests, they must have the appropriate permissions to do so.

Make an exchange request
An exchange request can be made from the schedule. To do this, go to the Schedule tab, then place your mouse on the shift you want to give up and click on the Magnifying Glass.


Once you have clicked on this you will be taken to a screen with the shift information. At the bottom right you can click on the blue button named Request exchange.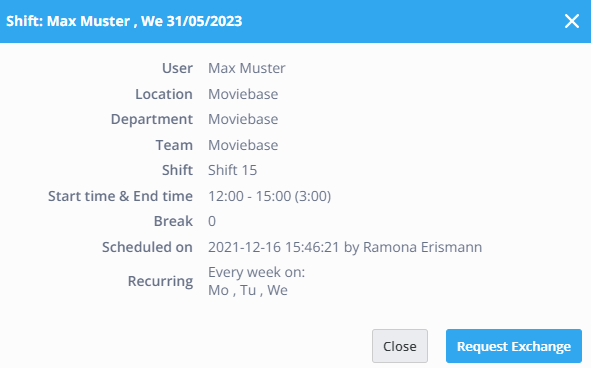 From the exchange request, colleagues can be selected to invite to the shift. There is also a field to add a description or request.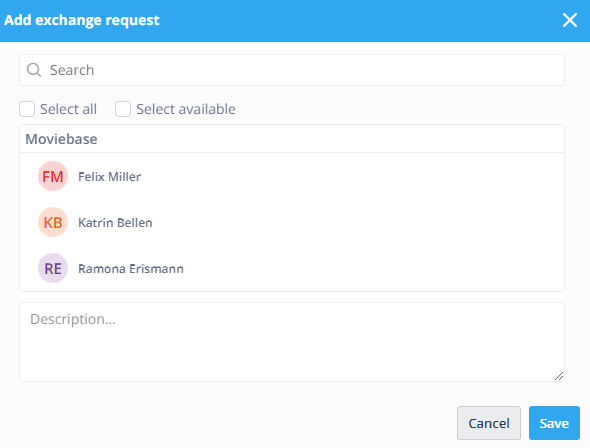 When a shift in the schedule is offered for exchange you can easily identify it by the two arrows.

Outgoing exchange requests
To view your own outgoing exchange requests, click on your name in the top right of the blue bar. Then select My requests, here you can view all your requests, modify them and see their status.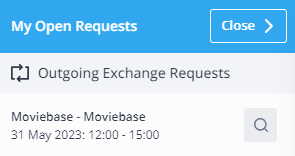 Incoming exchange requests
To view incoming exchange requests from colleagues, click on your name in the top right of the blue bar. Then select My requests, here you can accept or reject incoming exchange requests.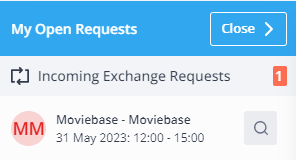 Approving exchange requests
When employees have exchanged shifts you, as the administrator, have to give permission for this. To do this, click on your name in the top right of the blue bar. Next you select Requests, here you can accept or reject the exchange requests.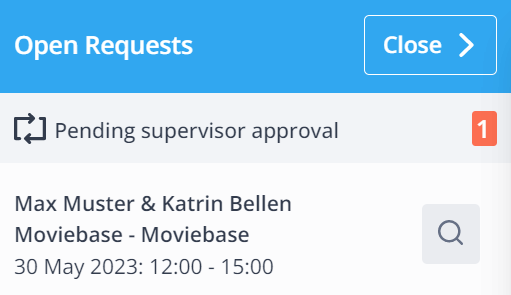 Once an exchange request is approved by clicking the check mark, this shift will be moved in the schedule to the new owner.
💡 Tip: If you want mutual exchange requests to be approved automatically without administrator intervention, you can do this by giving employees the permission Approve own exchange.