Vectron integration
Vectron integration


When you're using a Vectron cash register system you can choose to set up an integration with your Vectron account. You can request this integration via your account at Shiftbase. Pay attention! To set up this integration you will need to contact Vectron.
This integration offers you three functionalities:
A read out of the turnover per day

A read out of the clocked hours

Importing employees from ShiftBase to your Vectron cash register system.
Requesting Vectron integration
Via Settings > App center > Vectron you can request the Vectron integration.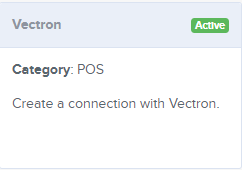 After you clicked on the Vectron integration click on the green button + Add Vectron integration to request the integration.


Here you give the integration a name and you will receive an API key as shown below.


With this key you can request the integration at your Vectron dealer. They will then check if your cash register system meets all the demands and will then setup the integration in consultation with you. The integration will always have to be set up by your Vectron dealer, this is usually possible remotely.

Did this answer your question?