Mobile app: Schedule
Your schedule in your pocket


From here, as an employee, you have direct access to your schedule. As a planner you can easily schedule employees from here.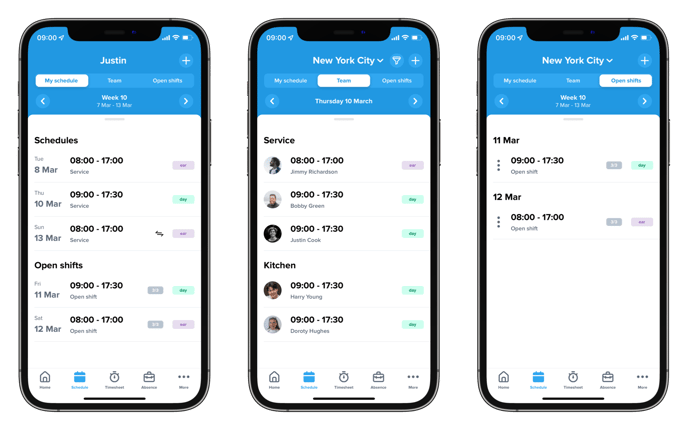 My schedule
Here you can see all the shifts you have to work for the selected week. At the top of the page you can choose which week you want to view.
You can press on a shift to see details of the shift. Here you also have the option to exchange a shift.
You can exchange shifts by clicking on the 3 dots icon in the top right corner and then on Exchange shift. Choose the employees you want to offer the shift to, add a note if necessary and press Send exchange request(s).
Team
In the team overview you can view the daily schedule for a department. Here you can see the colleagues who will be working in that department on the selected day.
When you click on a shift, you can view the details of that shift.
⚠️ Note: If your employer has concluded that you can only see your own schedule then this option is not available.
Open shifts
If you have been invited to an open shift, you can see all the invitations per month here.
When you click on an open shift, you can either accept or decline it.
Schedule (Planner)
As a planner, you have 3 additional functions for the work schedule.
You can use the blue button with the white plus to add shifts to the schedule.
When you have pressed a shift you can change it by pressing the pencil icon or delete it by pressing the 3 dots icon.