Setting up your Loket.nl integration with Shiftbase


If you use the Loket.nl payroll software, it is possible to integrate your Loket account with us.
Inhoud:
Adding the Loket.nl integration
Configuring the Loket.nl integration
Contractdepartment
Contracttypes
Employees
Cost centers
Wage and hour components
Export
Import
Adding the Loket.nl integration
This integration does two things.
Importing and updating the data of all your employees.

Generating import files that allow you to import the timesheets from your Shiftbase account to Loket.
⚠️Note: Add the new link by logging in with a Loket.nl user (note: not a web service user but a normal user).
Make sure this user has at least the following permissions:
Beheren en raadplegen BSN

Raadplegen dienstverbanden

Raadplegen applicatiebeheer werkgever

Raadplegen diverse vaste gegevens salarisverwerking

Raadplegen beloningen

Beheer dienstverbanden

Beheer variabele gegevens

Beheer concept medewerkers
In your Shiftbase account, go to settings and then choose App center from the top submenu.

By clicking on the Loket.nl box, you can set up a link via + Add a Loket.nl (REST) link.

The form below will now open:


When you click on the link, it opens your Loket.nl environment to make the link:
Gebruikersnaam: your Loket.nl username*

Wachtwoord: your Loket.nl password*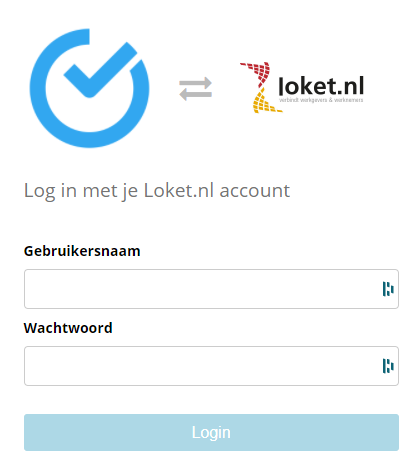 Configuring the Loket settings
After you have created a link through the steps just described, you must configure it. Configuring the integration with Loket.nl covers a number of steps that will be separate.
Cost center, first of all, you must link the sections within your account with the set cost centers within your Loket.nl account. You simply do this by selecting the corresponding cost center on the right for each department left.
⚠️ Note: For Internal contract types the option Do not import is not available. Always select the most appropriate option. If you choose to leave Select an option, this will trigger daily notifications that one or more integration settings are missing.

Hour code
After setting up the cost centers, you must also associate all used hour codes within your account with the corresponding components in Loket. For each component select the corresponding component in Loket. A list of all available hour components is available within Loket.nl administration. Hour components that you do not want to use can be left blank.


Wage components
Here you associate the wage components used with the corresponding component in Loket. Wage components that you do not want to use can be left blank.

Mapping employees
Finally, you need to map the employees, which enables us to synchronize your employees' data. If changes are made in Loket.nl account, this will automatically be synchronised in our system *** provided that the employees are mapped.
There are a number of options for mapping employees
Add

Do not import

Mapping the Loket employee to an existing employee within the account*

After mapping all the above-mentioned items, your integration is ready for use.
Loket.nl payroll export
A new Loket.nl report has become available. The report can be called up via Reports and Links. You can choose to send separate reports for Contracts hours and Hours worked.
Contract hours period, for all employees with fixed contract hours.

Worked hours period, for all employees with zero-hours contracts.
Exporting worked hours
All data can be made transparent via the option Show and can be exported to Loket.nl via the blue button Send to Loket.nl.
* Your username and password are not being stored / used by us and are only required for create a new integration.
*** Not all data will be synchronized automatically from Loket.nl. All changes to name, address and city data will be synchronized daily by us (this happens at night). When adding new employees, the employee's contract data is also imported. When multiple Loket.nl links are active within your account. Make sure that the employee number is unique to the employee on all the integrations so that the employees are properly imported.
**** When an employee leaves the company, it is wise not to synchronise the employee in the link anymore. This can be done by setting the employee to Not import in the connection. You can do this by going to Employees and clicking on the employee name and choosing Don't import.