Setting up your Unitouch integration

If you are using the POS system Unitouch, you can choose to set up an integration between your Unitouch account and your account with us.
This integration offers the following functionalities:
Importing turnover into your Shiftbase account several times a day.
Importing the clocked timesheets.
Creating the Unitouch integration
Creating the integration can be done by going to Settings > App center > Unitouch.
Then click on the green button +Add a Unitouch integration.

Then enter your user name and password here and click on Save.

Configuring the Unitouch integration
After authentication, you must enter the following information:
Mapping name: The name of the integration.
Notify import email address: The e-mail address where the notification of the clocked working hours will be received.
Notify turnover import email address: The e-mail address where the notification of the imported turnover(s) will be received.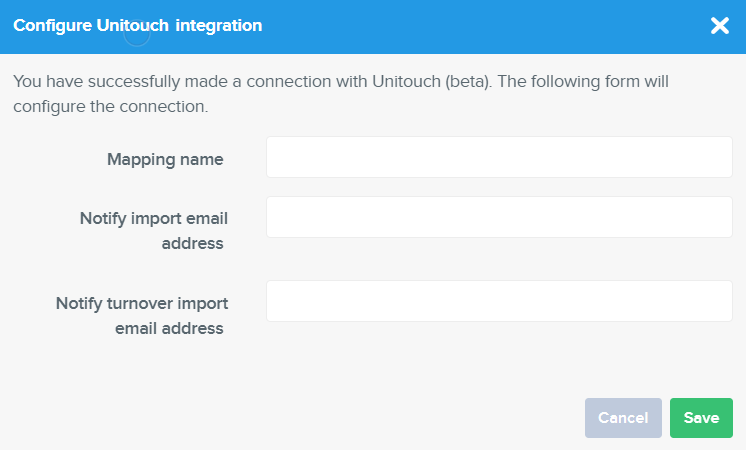 Mapping the Unitouch integration
When the configuration has been saved, you will automatically arrive at the mapping of the integration. Here you can link the following information:
Turnover import settings
Clock times import settings
Clock import settings
The Turnover import settings determine which cost centre in Unitouch (left) is linked to which team in Shiftbase (right).

The Clock times import settings specify where the clock times from each cost center in Unitouch (left) should go in Shiftbase (right). Here you can indicate if clock times should go to a specific department within Shiftbase or if it should go according to a schedule.

With the Clock import settings you link the employees. On the left you have the employees as they are known in Unitouch. On the right hand side you can select the corresponding employee in Shiftbase.

When everything has been entered, click on the Save button at the bottom left and the integration is ready for use.