How to set up an integration with Easylon

When you're using the Easylon payroll software you can choose to set up an integration within Shiftbase.
This integration helps with:
Generating an import file with which you can import all time registration from Shiftbase to Easylon.
Setting up your Easylon integration
Go to Settings and click on App center.

Click on Easylon and here you can click on + Add Easylon (ELSA) integration.

The following menu will appear:

Configure your Easylon integration
You can complete setting up your Easylon integration by following these next steps.
Mapping cost centers

Mapping employees

Mapping wage/hour components
Mapping cost centers

In the Cost centers tab you can indicate which departments should be exported. Behind every department you can indicate Export or Do not export. Once completed, click Save.
Mapping employees

In the second tab Export employees you can map the employees.
By adding the employee number as known in Easylon in the empty fields.
Next you click on Save.
Mapping wage/hour components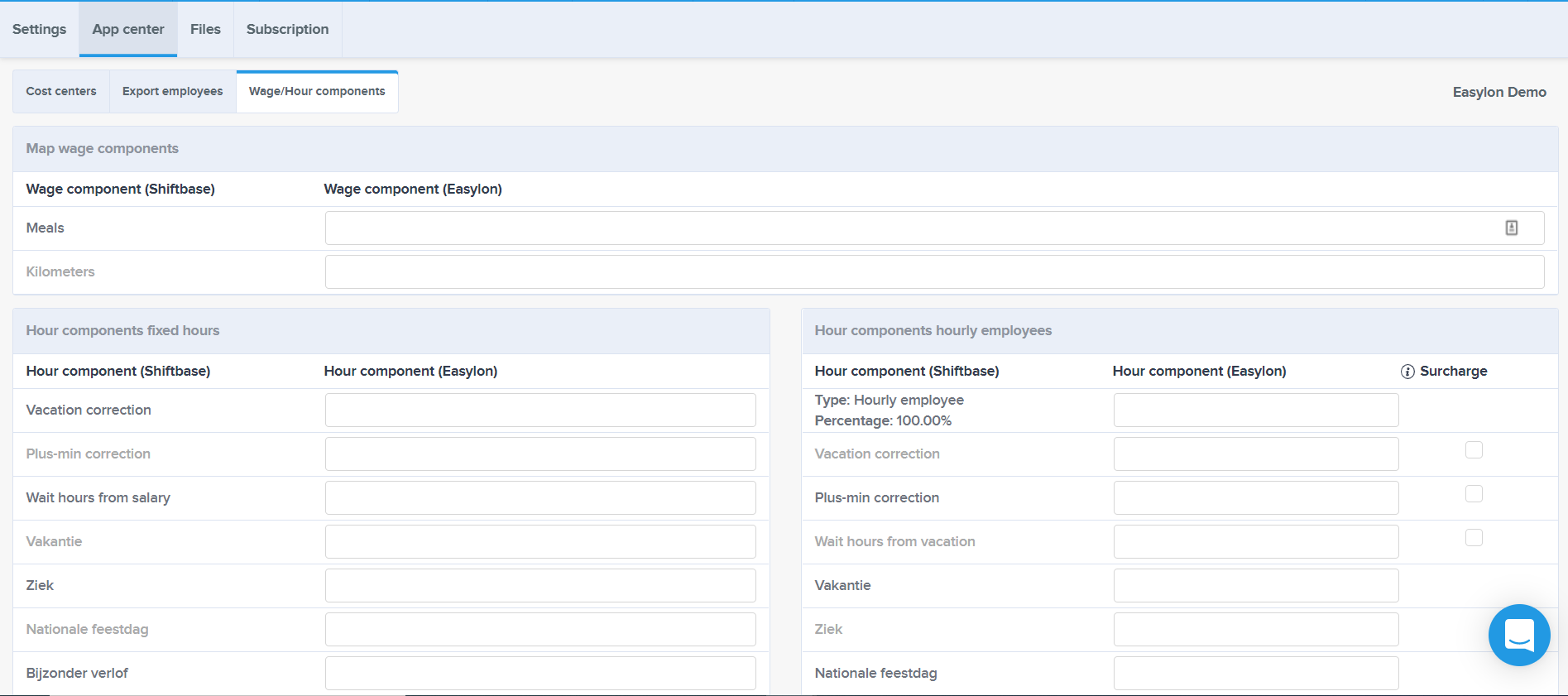 The last step is mapping your hour components per contract type. Here you get an overview of all your used hour types, surcharges and absence types for fixed hour contracts and hourly employee contracts.
Behind every hour component you wish to use you add the corresponding component. The final step is to click on the Save button.
Easylon payroll export


After setting up your Easylon integration you will get access to a new, Easylon report. This report can be found by going to the, Reports tab and clicking on, Easylon report at the bottom.
On the right-hand side you can find the Report filters where you can indicate which period and which configuration is required. By clicking on the green button Show you get an overview of all your mapped employees and mapped hour components.
Once you are pleased with the result, you can then click on the Send to Easylon button.
Then an e-mail is triggered that is sent to the e-mail adress given within the integration and all mapped hours are processed in a .CSV file.
You can then import the .CSV file received by e-mail to your Easylon payroll software.
⚠️ Note: With this integration, holiday hours to be paid out can be processed. Please note that the integration does not process leave balances to and from Easylon. It is desirable to process leave balances within Shiftbase.